After testing the market's best antivirus software for Mac systems, we saw that Bitdefender found up to 99% of malware and malicious files on the system, and was able to recover all of them. If you have been searching for an effective antivirus software for your Mac PC, then you must follow this review of the Bitdefender Antivirus software for Mac.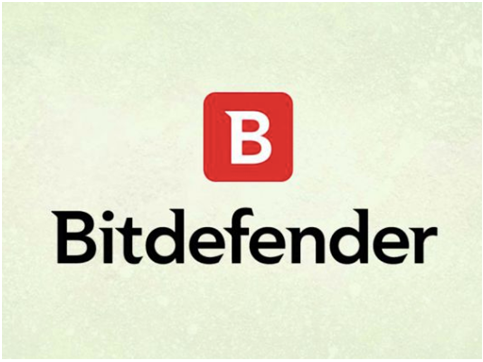 Why Bitdefender? 
It is one of the most popular antivirus software providers in the world, with different types of security and protection tools for almost all types of PC systems and mobile platforms. It has gained a reputable place in the industry by providing effective services to its customers.
The antivirus for Mac has been upgraded recently with a bunch of highly advanced and innovative features and tools. You can make use of the different tools to protect your Mac system from malware, phishing and other malicious activities done by hackers. Let's see what's new in the upgraded software.
Easy-to-use Interface
Unlike other Antivirus Software, they provides a user-friendly interface allowing everyone to use all the features and functions of the software effectively. Once you install the software and launch it on a Mac system, you will be presented with a clear interface. The front-page of the software will show you all the useful tools and functions of the software.
All the useful tools can be explored from the left sidebar while the quick functions can be used from the right sidebar or from the main Window.
Protection against viruses 
Bitdefender provides unbeatable protection against viruses and malware. With its advanced algorithm and new technologies, the software prevents malware attacks from the server of any website. It keeps everything safe on your Mac system and offers worry-free web surfing.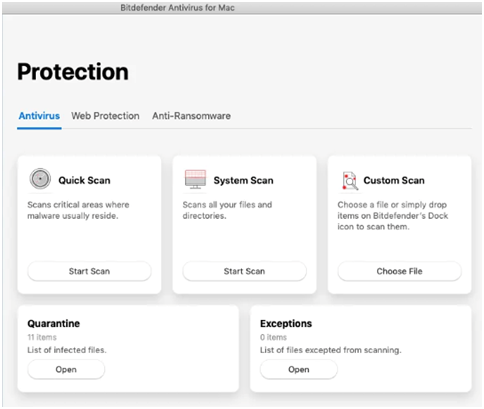 The software comes with a number of tools and functions such as safe files, time machine protection, cross-platform malware detection. It blocks and removes unwanted adware when you surf different types of websites automatically. You don't need to use any type of adblocker or external protection.
It comes with a quick scan and full system scan tools. You can click the Quick Scan option to start scanning the entire Mac system for viruses. It detects viruses and virus-affected files from the system and automatically removes them.
Extra Protection 
Advanced hackers use phishing and other activities to steal data from your system. This security tool comes with a built-in anti-phishing capability that protects your system against phishing activities done via email.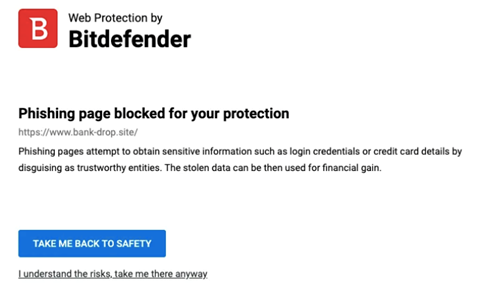 With Shield, Bitdefender safeguards your system while exploring untrusted or non-secured websites.
Security Features 
When it comes to the security of your Mac system, you need not worry about it as this security software uses advanced security features that provide 100% security to your system and all of your sensitive data.
The software includes the company's own VPN Software or tool that lets you hide your System's IP Address. You can also change your current location to unblock geo-restricted websites.
The VPN tool is also included with the antivirus software. You don't need to buy an external VPN from third-party suppliers. You will get the basic features of this tool for free.
Apart from this tool, you will also get the Traffic Light Extension tool which you can use while you browse different websites. This extension is installed on your web browser and you can easily navigate to it from the system tray of the browser.
This extension is very useful as it will alert you when you visit a non-secured or virus affected website with a Red icon. If it shows a Green icon, then the website is secured enough and you can explore it securely.
The company has recently introduced a new anti-tracker tool. It acts as an extension and protects your identity used by the website owners. It shows all the information about which type of data a website is fetching from your browser.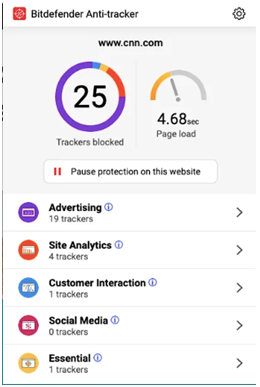 Pricing and Plans 
Bitdefender Antivirus for Mac comes with a few subscription plans. You can buy a suitable plan as per your requirements. The basic plan starts from $29.99 per year. You can purchase the same plan covering 3 systems for $19.99. Multi-year subscriptions are also available with 2-year and 3-year subscription plans.
Final Words:
Bitdefender is undoubtedly the best antivirus software that we have tested for Mac systems. It blocks harmful links sent by attackers automatically. It also blocks phishing emails and viruses and provides protection against ransomware and other deadly viruses on your system. It is the best antivirus for Mac users.