Social media is bigger than ever. According to Statista, the number of people on social media is projected to reach 3 billion. That's huge.
This makes social media the best place for businesses to promote their product. This might be organically or paid (through advertisements). Usually, social media is handled by the marketing team of the company.
In this article, we talk about some social media marketing mistakes to avoid in 2019.
1) Branding
Branding is very crucial for any company, be it a growing startup or an enterprise. But many companies forget that branding is not limited to their website or logo but it's also essential for social posts as well.
For example, let's see at Dunzo's social media account.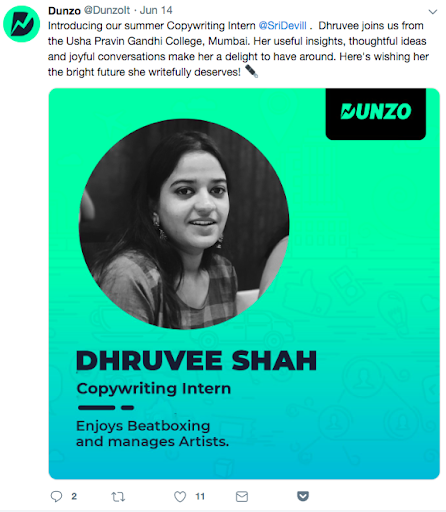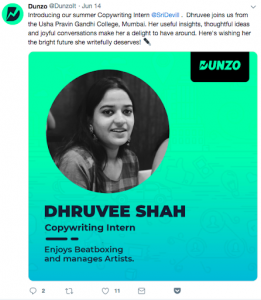 You can clearly see Dunzo's branding in their social media posts. This is constant for all their social media posts. Good branding elevates businesses and builds recognition and loyalty.
"Social media will help you build up loyalty of your current customers to the point that they will willingly, and for free, tell others about you." – Bonnie Sainsbury
2) Consistency
Consistency is crucial for social media success. This is true for all social media platforms. However, the recommended frequency of posts is different for different platforms.
For example, its advisable to tweet multiple times a day but it's better to stick to one post a day on LinkedIn. While you'll find a lot of "social media gurus" talking about the optimum number of social media posts per day but I'll recommend to try it yourself & stick to what works for you.
Social Media needs a lot of experiments as it depends on a lot of other things like the industry as well.
3) Audience
When it comes to marketing, the audience is everything. The same applies to social media too. Targeting the wrong audience can ruin all of your efforts.
Here's a beautiful quote from David Meerman Scott:
"Think like a publisher, not a marketer."
In case you're looking for targeted followers you could make use of a social media panel. They can help you to kickstart your social media accounts & build trust in your community.
4) Dealing with Negative Feedback
It's very important to deal with negative feedback smartly. No company is perfect hence it's very natural to get negative feedback on social media too. Most customers who leave negative feedback wants to take their concern very seriously.
People don't expect a formal apology but an assurance that the product experience would be better next time. It's important to act on the feedback.
5) Interaction
It's quite necessary to communicate with your followers. In the end, social media is all about engagement & communication. It's recommended that you actively participate in conversations.
There are times when accounts participate in conversations with their competitors. It's okay to take a dig at a competitor.
6) Using Tools
Managing social media accounts is a Hercules task. Even if you have a dedicated social media team, it's good to use tools. These might tool to create graphics for social media or for scheduling them.
Some examples of using tools to create graphics are Canva & RelayThat. For scheduling social media posts you can tool like Buffer.
7) Tracking the success
It's quite important to calculate the ROI of your social media efforts. This ROI can be calculated in terms of followers, likes or engagement. It all depends on what your company strives for.
There are various tools that help you track your social media statistics.
8) Planning
Planning is crucial for social media success. No, I'm not telling the planning companies do the previous day. I'm talking about long term planning which can be done for at least 3 months.
Make sure to keep of festivals, popular events or holidays.
9) Promotion
It's okay to promote yourself on social media. In the end, social media accounts are created to help bring traffic to the website. But a lot of promotion can harm your social media. You'll need to mix it up by promoting other's content too. Trust me, it's okay.
Conclusion
It's quite clear that social media is at its peak. More and more businesses are using it to generate leads as well as support. Yes, social media support is a thing now.
Hope there are a lot of takeaways from the post.